The Power of Signature Keratin
From our revolutionary keratin smoothing treatments to a wide variety of salon-professional shampoos and conditioners, each product in our reparative hair care collection is powered with proprietary Signature Keratin for strong, healthy hair.
SHOP NOW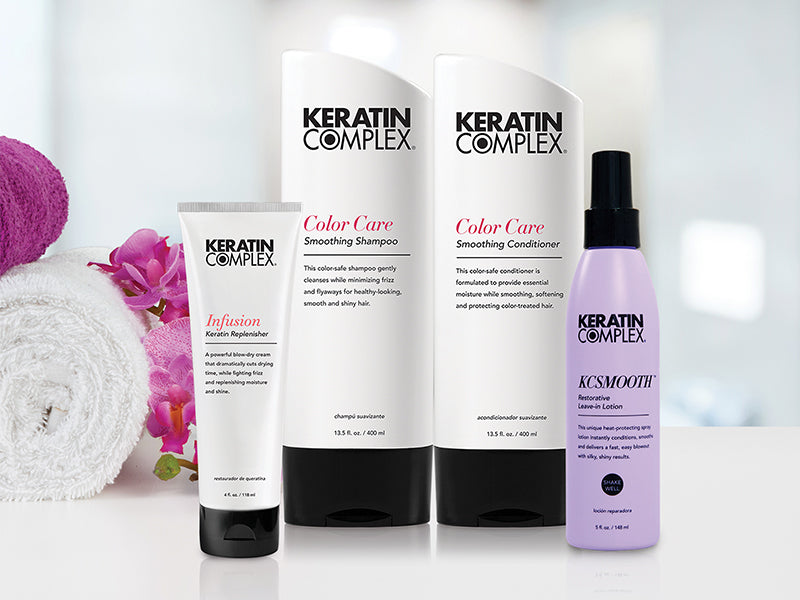 What is keratin?
Hair is made up of keratin—this protein makes up the natural structure of hair and directly affects hair nourishment and moisture. Keratin also forms a protective shield around the hair. When keratin is optimized, it leads to strong, healthy hair.
LEARN MORE
Beautiful, vibrant, long-lasting color results, with the benefits of signature keratin is what Keratin Complex's Graffiti Glam semi-permanent hair color is all about. Graffiti Glam, with intense direct pigments, has...

Beautiful, vibrant, long-lasting color results, with the benefits of signature keratin is what Keratin Complex's Graffiti Glam semi-permanent hair color is all about. Graffiti Glam, with intense direct pigments, has...

LEARN MORE

When the snow is falling and the air is cold, it can make for a beautiful winter wonderland – but this weather is not ideal for your hair. The cold,...

When the snow is falling and the air is cold, it can make for a beautiful winter wonderland – but this weather is not ideal for your hair. The cold,...

LEARN MORE

Keratin Complex® is a beloved "mane-stay" in the professional beauty community. The renowned full-service brand has been bringing big benefits to clients, salons, and stylists for more than a decade....

Keratin Complex® is a beloved "mane-stay" in the professional beauty community. The renowned full-service brand has been bringing big benefits to clients, salons, and stylists for more than a decade....

LEARN MORE